Application Virtualization Explorer -
The premier App-V package editor and administrator's companion

Trusted by lot of App-V professionals around the world - Application Virtualization Explorer (AVE) leads a new era in App-V package editors and viewers. AVE has several advanced and easy-to understand features in the interface and it makes all post processing tasks for App-V packages easier than with any other tool on the market. AVE targets all use cases and infrastructure models where App-V packages are used, be it a SCCM integrated usage, traditional App-V infrastructure, custom delivery methods or standalone usage.
Review App-V packages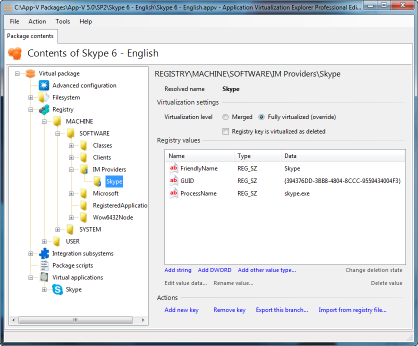 Regardless of the source of your App-V virtual application - be it Microsoft's built-in Sequencer or any 3rd party automatic conversion tool or process - you will want to review the package with certainty that you are going to see all there is to the package. That is, there's no hidden settings (such as logically deleted registry entries or VFS mappings) your original packaging tool did not reveal to you or took settings onboard accidently. This is especially true for automatically converted packages where you do not have up to the minute control for details.
AVE will show and gives access to all important bits and pieces there truly is to the App-V package and its inner composition. This gives the possibility to be certain no unexpected side-effects will pop up when deploying the package to actual clients.
AVE's unique Virtualized System View™ will simulate the way package would be seen on the local machine if run inside App-V's Virtual Environment (VE), all without needing to have App-V Client locally present or package imported into it.
For enabling understanding of complex Dynamic Suiting scenarios, AVE is able to perform App-V style dynamic suite composition action on the package by loading additional SFT files into same view as the main package. This shows how the data will be merged when the suiting kicks in at the client, something that cannot be simulated or compensated by original Sequencing tool. As truly one of a kind feature, AVE can do full merger of two or more SFT files, resulting one single logical and physical package that no longer needs suiting to work as a combinatorial virtual environment, but can be deployed as standalone unified package without requirements for DSC at run-time.
All this with easiness that would expect from professional tool.
Edit App-V packages
While other App-V related editors in the market currently are mostly limited into making changes to plain-text files (OSD, SPRJ and XML manifest file) in the full suite of App-V package files,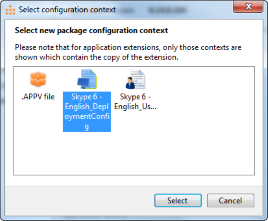 AVE can handle not only changes both to plain-text stored data, but also for contents of the the binary package file (SFT file) making it truly an integrated editor for the whole package. Building on the years of in-depth experience of App-V file-format, AVE enables stand-alone full-package editing capabilities, making AVE an one-stop shop for all common package editing needs; without having to resort into going back to Sequencer environment, which can be saved only for those situations really needing installation monitoring workflow.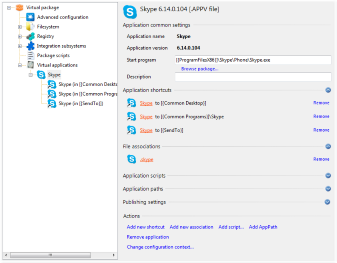 AVE supports all past and present App-V and SoftGrid formats, 32-bit or 64-bit (App-V 4.6+ only), in both reading and writing capability. With AVE, encoding parameters for saved and modified package can be tuned to the finest detail, a feature simply not available through any other means or tools. For instance, package can be modified but retained in the same internal version level (version numbering, GUIDs and "sequencing" history) as the original package was, making it indistinguishable from the original from App-V's perspective.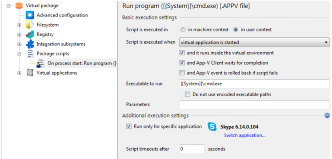 Some of the features in App-V virtual packages are very hard to maintain and manager, and package scripting is one of these features. Application -level and package -level scripting is fully supported in AVE using integrated script editing interface which enables very easy and "hands-off" method for adding simple or complex scripts to the package.
This is especially true for situations where built-in capabilities of OSD scripting just does not cut it; AVE includes pre-made configuration scripts for commonly needed actions and adds additional logic for making it possible to run internally stored scripts in or out of the virtual environment without needing to worry about mechanics how to do so.Furthermore, AVE adds its unique own enhancements to the OSD scripting making it possible to run scripts with alternate credentials, only one time per user etc.
With AVE, there is no need for reverting back to clean environment or setting up secondary partitions in order to open and edit internal files, nor is it necessary to extract the whole internal directory of files back to disk. Just open the package, edit and save back as an updated package. To complete the changes in fullest, AVE will take care of updating manifest file to reflect updated OSD files and also making MSI file up-to-date - or generating completely new MSI for older packages without one in the source. Edits to a App-V package could not be any easier!
Examine App-V Client data
As industry's first tool, AVE is able to open up and display the contents of App-V Client cached settings - or delta - files (also known as PKG files based on their file extension). While so far App-V administrators has been limited to only guess what the running packages have cached on the client - per user or per machine - now you actually can see it! No more blind repairing App-V packages on the client on the hope that problem will go away.
With AVE, you will be able to examine and analyze the root cause since having the full visibility on the client, and then make necessary adjustments to your packages (with AVE, of course!) for good, with no place left for guessing.
Still not convinced?
To try out Application Virtualization Explorer for a limited time period, you can download trial version of AVE Professional!