Application Virtualization Explorer -
The premier App-V package editor and administrator's companion

Trusted by App-V professionals around the world - Application Virtualization Explorer (AVE) is the golden standard in App-V package editors.

AVE has several advanced and easy-to understand features and it makes all of the post processing tasks for App-V packages easier than with any other tool on the market. AVE targets all use cases and infrastructure models for App-V, be it a SCCM integrated usage, traditional App-V infrastructure, custom delivery methods or standalone usage.
Review App-V packages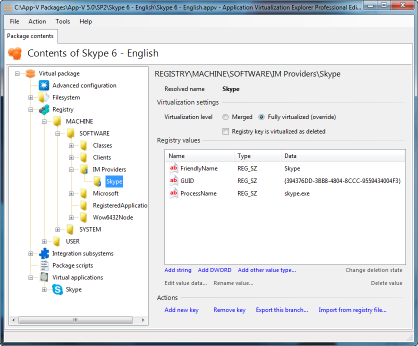 Regardless of the source of your App-V virtual application you will want to review the package with a certainty that you are going to see all there is to the package. That is, there's no hidden settings (such as logically deleted registry entries or VFS mappings) your original packaging tool did not reveal to you, or took settings onboard accidently. This is especially true for an automatically converted packages where you do not have up to the minute control for contents.
AVE will show and gives access to all important bits and pieces there truly is to the App-V package and its inner composition. This gives the possibility to be certain no unexpected side-effects will pop up when deploying the package to actual clients.
Edit App-V packages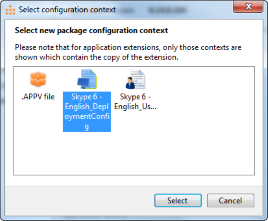 While other App-V related editors in the market currently are mostly limited into making changes to plain-text files (OSD, SPRJ and XML files) in regards to the App-V package files (either 4.X or 5.X), AVE can handle not only changes both to plain-text stored data, but also for contents of the the binary package file (.APPV file or .SFT file) making it truly an integrated editor for the whole package.
Building on the years of in-depth experience of App-V file-formats, AVE offers stand-alone full-package editing capabilities; making AVE an one-stop shop for all common package editing needs without having to resort into going back to Sequencer environment most of the time.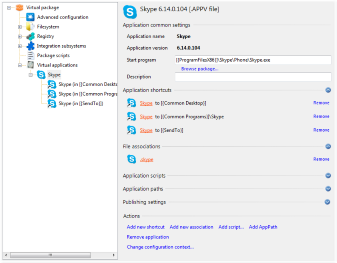 AVE supports all past and present App-V formats, 32-bit or 64-bit, in both reading and writing capability. With AVE, encoding parameters for saved and modified package can be tuned to the finest detail, a feature simply not available through any other means or tools. For instance, package can be modified but retained in the same internal version level (version numbering, GUIDs and "sequencing" history) as the original package was, making it indistinguishable from the original from App-V's perspective.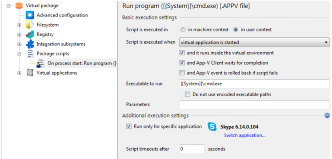 Some of the features in App-V virtual packages are very hard to maintain and manage, package scripting being one of these features. User, machine, application and package -level scripting is fully supported in AVE using integrated script editing interface which enables very easy and "hands-off" method for adding simple or complex scripts to the package.
With AVE, there is no need for reverting back to clean environment or setting up secondary partitions in order to open and edit internal files, nor is it necessary to extract the whole internal directory of files back to disk. Just open the package, edit and save back as an updated package. To complete the changes in fullest, AVE will take care of updating manifest file to reflect updated OSD files and also making MSI file up-to-date - or generating completely new MSI for older packages without one in the source. Edits to a App-V package could not be any easier!
Still not convinced?
To try out Application Virtualization Explorer for a limited time period, you can download trial version of AVE Professional!